Understanding Service Academy Recruiting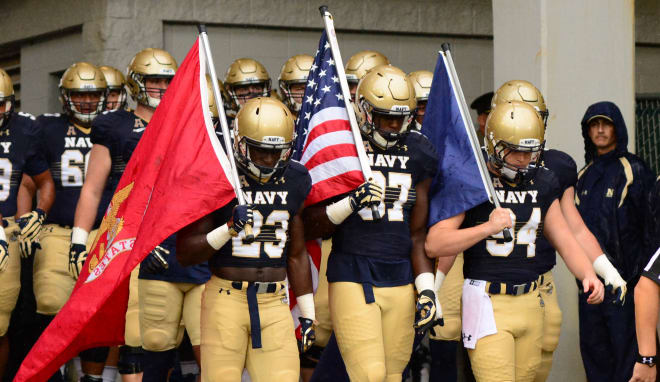 It's a fascinating time for the Navy football program. By the end of June, the Midshipmen had already secured verbal commitments from 46 recruits, with the majority coming in the last week of the month. That's a remarkable number for this early in the recruiting process; in contrast, Navy had 16 verbal commitments at the end of June 2016. As of today, 57 players have given their pledge to come to Annapolis. While the class isn't full quite yet, for the bulk of it to be committed before their senior years have even begun is noteworthy.

Even people who follow Navy recruiting were caught off guard by the sudden deluge, so you can imagine how it looked to everyone else. If you pay attention to social media, you might have noticed fans of other American Athletic Conference schools wondering what in the world was going on. How can Navy have so many in their class? What happened to scholarship limits?
Reading some of these comments, it became apparent that otherwise plugged-in college football fans still don't know much about how service academy recruiting works. Sure, we're past the days of people thinking that the rosters of Army, Navy, and Air Force are filled via open tryouts, or that the Army-Navy Game is played between enlisted members of each service (if you're a long-time fan, you've likely heard both). The finer points, however, aren't as well known.
In many ways, the recruiting process at the service academies is the same as at any school. The coaches set their targets, then go about building relationships like everyone else. All the same contact periods, quiet periods, and dead periods apply, with a couple of exceptions. The week after the Army-Navy Game is a dead period for most schools, but since Army and Navy are doing game prep the week of the game while everyone else is recruiting, the service academies have an exception for the following week to make up for lost time. Note that I said the "service academies" and not "Army and Navy;" Air Force petitioned to get that week to recruit as well, and for some reason, the NCAA granted it even though the Falcons aren't affected. It makes no sense but probably isn't on anyone's list of priorities to fix.
Service academies also have an exemption for making contact with recruits during their junior years. The nomination, application, and screening process for all service academy students, athlete or not, begins in the junior year of high school. Service academy coaches are allowed to make contact with recruits to guide them through that process even if it conflicts with NCAA-designated contact periods.
While the process is essentially the same, there are other substantial differences, with the biggest being the nature of the scholarships that are awarded to student-athletes. Strictly speaking, there are no athletic scholarships at the service academies. Every student at Army, Navy, and Air Force is on scholarship. Athletes get considerations in the nomination and admission process, but there is no financial aid earmarked for athletics. The scholarship that an athlete receives at a service academy is no different than the scholarship of every other midshipman or cadet.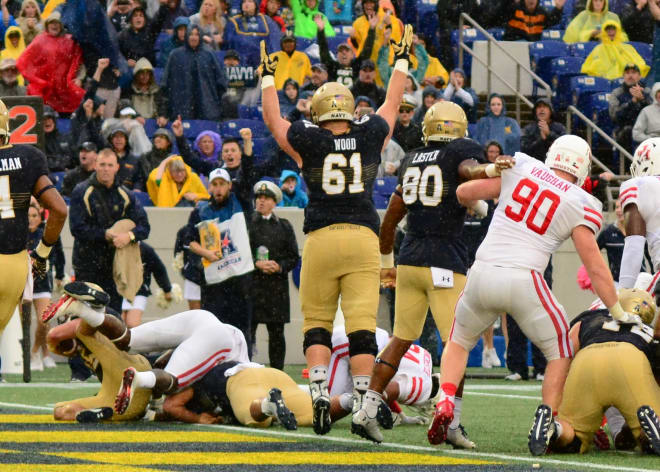 This has a few different implications. For the student-athlete, it's a tremendous benefit. Since 2012, coaches have been allowed to grant multiyear scholarships for student-athletes instead of one-year scholarships that may or may not be renewed. It's up to the coach what type of scholarship to give, but at the service academies, they are all four-year scholarships, and always have been. On top of that, the athlete isn't dependent on playing a sport to maintain that scholarship. One can leave a team at any time, for any reason, without fear of losing financial aid because of it. Service academy athletes play because they want to, not because they have to.

The most important ramification from a fan's perspective is that, because the NCAA regulates athletic financial aid, and because there is no athletic financial aid at the service academies, the NCAA's scholarship limits don't apply. Football Bowl Subdivision rosters are limited to 85 scholarships and 25 per recruiting class, but service academy classes are typically much larger. This is also why service academy players are allowed to receive a salary. They aren't paid as a benefit for participating in athletics; they are paid because every academy student is paid according to his or her rank.
That's not to say that there aren't any restrictions. Service academies are limited to 56 official visits before national signing day, the same as other FBS schools. They are, however, allowed another 14 visits after signing day, since service academies do not participate in the National Letter of Intent program.
While the NCAA doesn't limit the size of service academy recruiting classes, there are limitations set by the schools themselves. A common misconception among college football fans and media is that admissions at all three service academies is the same. That's not the case. Each school's admissions board sets the number of recruits that their teams can bring in, and that number is different between them. For football, the Naval Academy tends to be the most selective, especially recently. The Mids announced a 2017 class of 54, for example, while Army announced a class of 82. Both Army and Air Force had 90+ verbal commitments on signing day.
Admissions standards are different at each school as well. Army's decision to relax their standards was fairly well publicized. That isn't a criticism, but rather a way of pointing out that they wouldn't be in a position to relax anything on their own if there was one consistent admission standard between all three service academies. Each school sets their individual requirements with the idea of minimizing the risk of admitting someone who won't make it to graduation. All three schools take chances on kids. Taking more chances can mean more players that don't make it all four years, which might explain the larger classes at Army and Air Force; bringing in more players helps if you expect to lose a higher percentage of them.
The numbers may differ between the service academies, but all three schools still bring in larger classes than their FBS counterparts. Having greater numbers affects both how and who a service academy recruits.

Most schools, knowing that they will only take one or two players per position in each recruiting class, have to be somewhat frugal when it comes to extending scholarship offers. Because they will bring in more players, service academies can extend more offers to their top targets earlier in the process.
It creates an interesting dynamic when attempting to analyze recruiting. Most service academy fans judge their team's success by comparing how they did against the other academies. Whoever earns the most commitments when going head-to-head with the other service academies is perceived as having the best class. It's a decent rule of thumb, but less so than it used to be, particularly since Navy joined the American Athletic Conference. As Ken Niumatalolo said, "We're always going to battle Army and Air Force, but we can't use them as a benchmark. We've also got to worry about beating Houston. We're trying to get kids who can help us win a championship."
We see this play out fairly often. Academy "A" will land a recruit that also had an offer from Academy "B." "A's" fans rejoice. But Academy "B" already had commitments at the same position from players with multiple other offers. So did "A" really beat "B" for the kid? Maybe, maybe not. If he was #1 on "A's" board, but #4 on "B's," and "B" already landed their top three, then not really. Without knowing each school's specific priorities at that position, it's impossible to tell. If both schools were more limited in the number of players that they could accept, then "B" might never have extended the initial offer to the player that "A" ultimately landed. Regardless, on the final tally between the two schools, it will look like "A" 1, "B" 0.
The ability to bring in larger numbers of recruits also allows academy coaches to take chances on players that other programs might have dismissed. Perhaps a player is seen as too small or too one-dimensional for most programs to consider with such limited space. At a service academy, that player has a chance to develop his game for four years and become a key contributor by his junior or senior year, perhaps even getting early game reps playing for the JV team. With other schools, smaller recruiting classes can mean that they are unwilling to give up a spot to wait for a player to reach his full potential. Service academies do just that, and the resulting contributions from those players make for recruiting classes that usually outperform their rankings.
It also makes for a different definition of "good recruiter." Fans and media both tend to think of a good recruiter as a salesman that brings in highly-rated recruits. Service academy coaches want to bring in highly-rated players too, but it's just as important to be able to look at a less-heralded player and see his development potential. The ability to project is important at any school, but vital for making a successful service academy recruiter. As a result, that recruiter's success can't always be measured on signing day.
In the end, recruiting at every school is about building relationships and showing players how your school aligns with their personal goals. There are a few quirks to consider, though, when looking at service academies.