The Holy Cross Preview
Navy is one of the oldest college football programs in the country, having played their first game in 1879. The Mids' 711 wins are 24th-most among FBS programs, and their 1,336 games played are second only to Rutgers. They've lined up against 161 different opponents. They've appeared in 23 bowl games, including each of the original "big four" (Rose, Sugar, Cotton, Orange), and they claim the 1926 national championship.

With such a deep and notable history, it is rare to come across program firsts in Annapolis nowadays. Nevertheless, here we are on the eve of the 2019 season with Navy preparing for their first-ever meeting against the Holy Cross Crusaders.
There are hundreds of teams across Division I football, so maybe it isn't all that remarkable for Navy to be facing someone for the first time. Indeed, even some American Athletic Conference members made their first appearance on a Navy schedule in the last few years. Given both teams' histories, though, it is difficult to believe that the Midshipmen and the Crusaders are meeting for the first time in 2019. As prominent Eastern programs, Navy and Holy Cross ran in the same circles for decades, especially in the first half of the 20th century. From 1918-1939, Holy Cross never endured a losing season and twice went undefeated (1935, 1937). The 1945 squad earned an invitation to the Orange Bowl. Nine Holy Cross teams won six or more games over the '50s and '60s. They did this while facing many of the same opponents that Navy faced: Ivy League schools, current Patriot league teams, and other Eastern independents like Penn State, Syracuse, Army, and Boston College. Somehow, the Midshipmen and Crusaders never crossed paths.
Holy Cross football had a resurgence as a I-AA team in the late '80s. Gordie Lockbaum became a household name among college football fans as a two-way player and finished third in Heisman voting in 1987. From 1986-1991, the Crusaders won at least nine games every year (including two undefeated campaigns) and five Colonial League/Patriot League titles. They were a regular on Jim Young-era Army schedules but had never made their way to Annapolis until now, with Navy scheduling Patriot League schools as their one FCS team in most years.
It's a different Holy Cross program nowadays. After Mark Duffner, the architect of those great '80s teams, left for Maryland following the 1991 season, success has been sporadic at best. There have been a few high points here and there; the 2002 team earned an FBS win against Army, and the 2009 team finished 9-3 and won the Patriot League. With only one winning season in the last seven years, though, there hasn't been too much else to get excited about.
That may be about to change. Under new head coach Bob Chesney, Holy Cross stumbled to a 1-6 record to start the 2018 season but finished with four straight wins. Those four wins all came against Patriot League opposition, giving the Crusaders their first winning record in the conference since 2011 and fueling optimism that the trend will continue this year. People around the league have taken notice, and Holy Cross was voted second in the Patriot League preseason poll.
Upon closer inspection, one wonders if the outlook is a little too rosy, at least as it relates to the Navy game.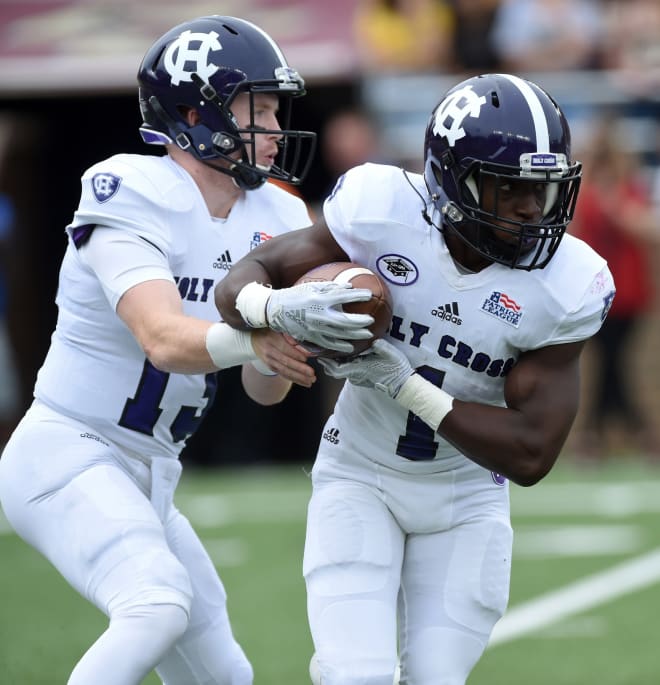 Statistically, Holy Cross' offense was below average in 2018, finishing 98th in FCS at 333.5 yards per game. That's hardly impressive, although some context is necessary. The Patriot League is very much a defense-first conference, with three top-35 defenses a year ago including #1 Colgate and #11 Georgetown. The Crusaders played three more top FCS defenses out of conference-- Dartmouth, New Hampshire, and Harvard-- plus Boston College of the ACC. To finish second in the Patriot League in both total offense and scoring offense after facing that schedule is a respectable achievement.

The overall numbers might not catch anyone's eye, but what is noteworthy is how Chesney's team achieved them. The pendulum of the Holy Cross offense had some wild swings. The Crusaders ran for 405 yards in a win over Lehigh but ran for only 6 yards in a win over Georgetown. The Lehigh game was played in terrible weather, which probably makes it an outlier; the Crusaders' 12 pass attempts were a season low. There are other examples, though. Holy Cross ran for 169 yards against a stellar Colgate defense and 167 in the win over Yale but had only 56 rushing yards against Fordham and 13 against Dartmouth. The passing game tells a similar story. In their four non-Lehigh-sleet-storm wins, Holy Cross averaged 256.5 passing yards. In their losses, they averaged only 163.7 yards through the air.
The optimist would say that Holy Cross was adaptable on offense, able to run or pass depending on what the defense gave them. The pessimist would say that the team lacked identity, consistency, or both. I'm not sure that either of these is entirely correct. Regardless, it seems likely that the Crusaders will have a clear identity in 2019. Their bread and butter will almost certainly be running the football.
Holy Cross returns seven starters on offense, but the players they've lost include their top three receivers and quarterback Geoff Wade. That isn't a recipe for throwing the ball, at least not in the season opener. There wasn't an heir apparent to Wade, either. Four quarterbacks are competing for the starting job, including Wake Forest transfer Matt Considine and Emmett Clifford, a senior who started three games in 2018. Clifford and junior Connor Degenhardt are reportedly more familiar with the offense, while Considine and freshman Chris Butash are considered to be more physically gifted. The top returning receiver is Derek Mountain, a 6'5" tight end who caught 14 passes for 212 yards and four touchdowns last season.
(Navy fans may recognize slot receiver/kick returner Jon Jon Roberts, who transferred from USNA after his plebe year in 2016.)
While Holy Cross still has plenty of questions to answer in the passing game, their running attack appears to be well-sorted. All five offensive linemen return from a year ago, anchored by first-team all-conference selections Brian Foley and Brett Boddy. Tipping the scales at 314 and 302 pounds respectively, Foley and Boddy are tasked with opening holes on the left side of the line for running back Domenic Cozier. After running for 643 yards and eight touchdowns last year, Cozier was named to the 2019 preseason All-Patriot League team.
At 5'9" and 181 pounds, Cozier is a small tailback even by FCS standards. However, offensive coordinator Patrick Murphy does a good job of getting the ball to him and others in space. Murphy's offense is a spread designed to stretch defenses from sideline to sideline. The running game incorporates a lot of sweeps and inverted veer-type plays that get the ball outside. The passing game supports this effort. Holy Cross will throw downfield on occasion (often off of play-action), but most of their passes are high-percentage, west-coast-offense-style throws like slants, swing passes, and receiver screens. These get the ball out of the quarterback's hands quickly and complement the outside running plays. As defenses compensate by adjusting outside, it eventually leads to running lanes between the tackles.
Schematically, Holy Cross presents an interesting matchup for the Navy defense. In theory, this is precisely the kind of offense that Brian Newberry's system is designed to stop. However, it will also be the first time that Navy's players will take the field under Newberry's direction. It is natural to expect a few hiccups in week one, and Holy Cross could potentially take advantage of those miscues. Spreading the field horizontally forces players to maintain gap discipline and make one-on-one, open-field tackles. If Navy defenders are mistake-prone in their new roles, the missed assignments can lead to chunks of yardage going the wrong way.

Holy Cross has to replace seven starters from their own defense, which was the 43rd-ranked unit in FCS a year ago. The losses were particularly hard up front, with three linemen and two linebackers graduating. The Crusaders lost both leading tackler Ryan Brady (121 tackles) and defensive end Teddy Capsis, who led the team with six sacks. Most of the returning experience is in the secondary, where defensive backs Joe Lang and Alex Johnson combined to make 139 tackles.
Defensive coordinator Scott James employs a 4-2-5 scheme, although he'll occasionally line up in a three-man front in passing situations. That doesn't necessarily tell us how he'll have the Crusaders line up against Navy, though, as many defensive coordinators switch alignments when facing the option. Whatever track record James has against the option isn't well-documented, so it's anyone's guess as to what he plans to do against the Midshipmen. With the bulk of his team's experience coming from the secondary, it might make sense to bring two DBs up to linebacker depth to present more of a 4-4, with the free safety following the pitch. That, however, is only a guess.
With a winning conference record last year and a pair of highly-regarded recruiting classes in the fold, there are reasons to believe that Holy Cross is a program on the rise. Expecting them to be competitive against Navy, though, is probably too much to ask. In a way, this is the perfect opener for a Navy team that has gone through several changes on both sides of the ball. The Mids should win this game handily; Navy has defeated their last three Patriot League opponents by an average score of 50-16. Even so, Holy Cross will present schematic challenges that should test the Mids. Will the players have their eyes right in Navy's new defense? Will the offense be able to adjust to a defensive look for which they may not have prepared? Will Malcolm Perry be more comfortable throwing the ball?
Navy had similar questions going into last year's game against Lehigh, and while the Mids cruised to a 51-21 victory, there were still signs that not all was well. The Mountain Hawks averaged 6.2 yards per carry. Perry completed only two of nine passes and threw an interception. The Mids committed eight penalties. The problems that manifested themselves against Lehigh were still problems against other teams that, unlike the Mountain Hawks, were able to make the Midshipmen pay.
The goal, as always, is to win. However, how Navy wins is also important. The schedule is only going to get more difficult after this. If the record is going to change, the Mids have to show that their old habits have, too.
Talk about this and other topics on The Gouge, TheMidReport.com's member forum!