Lacrosse: The good and bad through nine games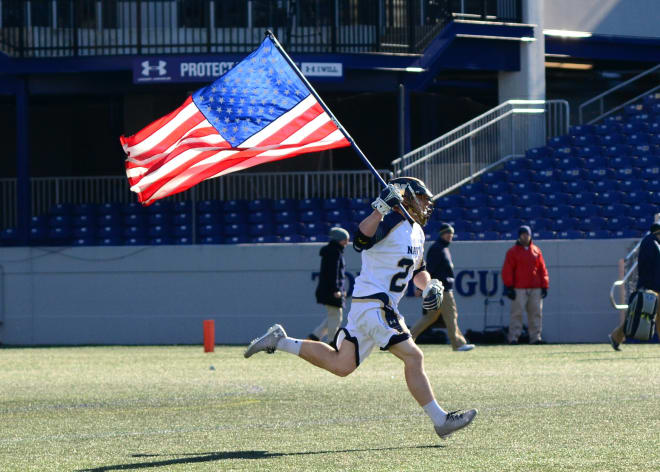 During his pregame radio interview before Navy faced Dartmouth on Tuesday night in Annapolis, Md., Navy men's lacrosse Coach Rick Sowell said his team hadn't been able to watch much film of Dartmouth because it had only two days to prepare for the rare midweek contest.
Then he corrected himself. "Well, Brady Dove watched film of [Dartmouth's] face-off guy," Sowell said.
Dove has been going above and beyond all season. He is the program's all-time leader in groundballs and face-off wins and earlier this season earned a school single-game record with 21 face-off wins against Maryland.
Dove is the unquestioned MVP of the first two-thirds of the season for Navy (3-6, 1-3 Patriot League). Here's a look at what else has gone right, what has gone wrong and what are the reasons for hope as Navy enters the home stretch of its regular season.
What's gone right
One opposing coach believes Dove will be a first-team all-American this year. Dove has won more than 50 percent on face-offs in all but one game this season; that includes his winning 12 of 17 in an 11-6 win over Dartmouth on Tuesday night at Navy-Marine Corps Memorial Stadium. …
Sophomore Ryan Wade (nine goals, 16 assists) leads the team in scoring after playing just two games last year. Wade generally plays behind the goal but isn't afraid to bull his way to the front for a shot; his performances include five assists against Bucknell and four assists against Johns Hopkins. But he also scored four goals with three assists against Maryland.
…
Senior longstick midfielder Matt Rees emerged from a two-game slump with two goals, three groundballs and two caused turnovers against Dartmouth. Rees has scored five goals this year and is one of Navy's best weapons on fast breaks.
…
Senior Colin Flounlacker (15 goals, six assists) has emerged as an aggressive and effective presence on an offense that sometimes has been a little too sedentary. Flounlacker appears to be, along with Wade, the best at throwing skip passes across the defense to an open teammate.
What's gone wrong
Injuries. Three players who started in the NCAA quarterfinals against Brown last year and were expected back this season have barely played or haven't played at all.
Junior midfielder Casey Rees (34 goals last year) suffered a season-ending knee injury in November. Junior attackman Jack Ray (16 goals, seven assists last year) has played in less than two games after suffering a foot injury against Maryland. And junior defenseman Hiram Carter is out for the year after being injured earlier this month.
This has been compounded because Navy hasn't gotten a ton of production yet from its freshman class. The only freshman who started against Dartmouth was goalie Ryan Kern, though LSM Tommy Miller has emerged as Matt Rees's backup and classmate Brad Alexander has seen sporadic time on the second midfield line.
Other programs have had freshmen provide a boost almost overnight – see Michael Sowers at Princeton, Ryan Tierney at Hofstra, Kieran Mullins at Rutgers and Mac O'Keefe at Penn State. There's no question Navy has talent waiting in the wings; a coach whose team has faced Navy at least once in the past three years said Navy's next three recruiting classes, starting with the class currently at the Naval Academy Prep School, has some unbelievable players. And Kern, despite a shaky start, has all the trappings to be an excellent college goalkeeper.
…
One other problem is that while Navy has struggled so far this season, Army and Air Force each has at least one impressive win – Army over No. 6 Syracuse and Air Force over No. 8 Duke.
Reasons to be hopeful
Navy unveiled a zone defense to great effect against Dartmouth. The zone mainly does two things – it works in better concert with Navy's patient offense and, perhaps more important, it gives Kern a better chance to see the shots he is facing.
Navy's aggressive defense that gives even the shortstick d-middies the green light to pursue takeaways sometimes has left Kern facing one-on-one chances from point blank, and any goalie would struggle to save those. Kern had his best game in weeks against the Big Green and the zone may well help him settle into the position.
It's a nice wrinkle that Sowell and defensive coordinator Ryan Wellner have added. Sowell said after the Dartmouth game that Navy would not be a team that plays zone "80 or 90 percent of the time," but even a little bit of zone might help Kern settle.
Virginia made a late-season switch to a zone defense in 2011 and wound up using it to win a national title. Syracuse switched to a zone before a semifinal against Johns Hopkins in 2004 and wound up winning, 15-8, having lost the regular season meeting. In a preparation-heavy sport like lacrosse, a slight wrinkle or adjustment sometimes can make a big difference.
…
Kern is the first plebe to start a season opener in goal at Navy since 1997. So in some ways, his journey is unprecedented.
Both Army and Air Force have used freshman goalies in recent years and their numbers are not that different from Kern's. Army sophomore AJ Barretto had a 7.96 goals-against average and .528 save percentage as a starter last year. This year, Air Force freshman Paxton Boyer has a 7.97 GAA and .451 save percentage. Kern's numbers – 9.93 GAA, .491 save percentage – aren't terribly far off the other two.
For comparison's sake, the Navy plebe who started the opener in 1997 – Mickey Jarboe – finished that year with an 11.08 GAA and .574 save percentage.
…
There is hope that Ray will return to the lineup soon. He has been listed as game-to-game since early last month but he was seen on the sideline on Tuesday night without a walking boot and in the middle of the sideline rather than at the end with the other injured players. Ray is a three-year starter and showed his importance to Navy when, in the final preseason scrimmage against North Carolina, he had six goals and two assists. A quartet on offense of Ray, Wade, Torain and Flounlacker would be a boost to a unit that is averaging less than 31 shots a game; the Mids are being outshot this year, 299-278, which is unforgivable. …
Navy's two best players other than Dove are senior defenseman Chris Fennell and sophomore midfielder Greyson Torain, and they may be rounding into form.
Sowell said Fennell had his best game of the season against Dartmouth. He finished with three groundballs and two caused turnovers and held Dartmouth junior Wiley Osborne to one goal and one assist. The goal came after Fennell switched with junior Michael Strack. Torain finished with three goals – two lefty, one righty – and four assists. The Big Green was unable to keep Torain out of the middle of the field and Torain made it pay.