Column: Paul Johnson Steps Down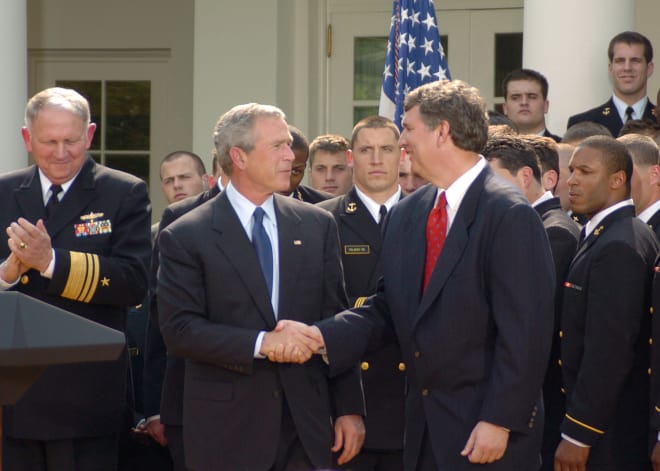 In a way, it's easier to go through life as a partisan. You always know how to react to a given situation even before it happens. Sacrificing individual thought in favor of the prescribed opinions of a particular tribe frees up time and neurons that can be used for other things. It's convenient.
The price for that convenience is that groupthink rarely produces inspired results. This is as true in the realm of college football as much as anywhere. We see it all the time, both among fans and school leadership. There is a persistent idea in the hiring of football coaches that he must be "one of us." It's not entirely ridiculous, up to a point; a prior connection to the school is a good way to put a list together of people who might be interested in the job. It should not, however, be a prerequisite.
Partisan fans often project the "one of us" mentality onto the coaches they already have as well. Coaches are the most visible employees of most colleges, and whether they like it or not, part of their job is to act as an ambassador. Some are more comfortable in that role than others, although fans like to think that their coach embraces it. Everyone believes that their school is special, and they want a coach who "gets it" as they do.
Paul Johnson was never that coach, and that's precisely what made him the right man for the job at Navy.
Before returning to Annapolis as head coach, Johnson had a short stint as Navy's offensive coordinator under Charlie Weatherbie. That didn't make him a "Navy guy," though. Even as head coach, the only people who thought of him as such were projecting their hopes more than their observations. Not that Johnson didn't have a fondness for the school or that he didn't conduct himself properly as its representative; he did on both counts. Those things just weren't what defined him. Johnson was all about winning, and that was the shot in the arm that Navy football desperately needed.
When he first arrived on the Yard, Johnson made an immediate impact on the culture of the football program. The team roster started shrinking even before the end of his first spring camp. Johnson saw a problem with his new team's attitude; in his opinion, too many players liked the status that came with being on the football team but didn't want to put in the work that came along with it. Johnson promptly put an end to that. The players would have to rise to his standard, he said, because he wasn't going to sink to theirs. Those whose hearts weren't truly into playing football found other pursuits.
Johnson brought the same my-way-or-the-highway attitude to the program off the field. For a generation, Navy football was run by people who supposedly understood the Naval Academy. Too often, though, "getting it" was just a synonym for "settling." At Navy, you could only spend so much on coaches and facilities. You had to schedule a certain way. You could only recruit a particular type of player. You had to work around the Academy's calendar, which was set in stone. These became excuses rather than problems to solve. Not accepting this mindset is the most lasting impact that Johnson had on Navy football. He took over a program with a 1980s mentality and catapulted it into the 21st century.
This is the real essence of Paul Johnson that tends to get lost in most accounts of his career. He is lauded as a one-man revolution in option offenses, and his gruff personality and one-liners have made him a press conference legend. These are both deserved reputations, but they only scratch the surface of what makes him such a complete coach. Throughout his career, Johnson has repeatedly accepted the challenge of situations that others would label as impossible tasks. He helped to build Georgia Southern up from literally nothing and turned it into the most successful FCS program of its era. His offense was the catalyst that Hawaii needed to advance to the program's first bowl game since moving up from Division II. Two years after Sports Illustrated published a column suggesting that Navy drop to I-AA, that same offense won the Aloha Bowl. Navy wouldn't return to a bowl game until Johnson returned as head coach. He took Georgia Tech to two Orange Bowls, the Yellow Jackets' first major bowl games since 1966.
Johnson's critics would say that he has a big ego, but his supreme confidence in what he does rubs off on his teams. Nowhere was this more evident than at the Naval Academy, where he orchestrated an upheaval of the Midshipmen's two longest-running rivalries. Johnson never lost to Army. He had no time for the old rivalry "throw out the records" cliches, proving instead that the games didn't have to be close and ushering in an unprecedented era of dominance. He saved his most magnificent performance for his final season with Navy, ending their long losing streak against Notre Dame. In six years in Annapolis, Johnson removed every monkey that had attached itself to Navy's back.
That ego is something, although it's easy to understand where it comes from. No matter how many times Johnson proved himself, doubters persisted, even within his own profession. Year after year, Johnson has had to listen to people saying that he couldn't succeed; that his offense is a relic that has been deciphered. Fans and media picked up on Johnson's grudge against Brian VanGorder, but Navy players and fans have their own stories from Johnson's time on the Yard.
One such story involved UConn's Randy Edsall. The Huskies shut out Navy in Annapolis in 2002 after a dreadful performance by the Navy offense. When the two coaches met to shake hands after the game, Edsall said something along the lines of, "don't worry, I won't share the film from this game." He might as well have spit in Johnson's face; to say that is essentially to say, "I have solved your offense, but don't worry. While I hold your career in my hands, I will take pity on you." The two teams met again in 2006, and Johnson had a game plan especially cooked up for the occasion. The Mids' first play from scrimmage was a 77-yard touchdown pass from Brian Hampton to Reggie Campbell, and that was only the beginning. Navy rolled up 605 yards of offense on the way to a 41-17 win. After the season, UConn canceled the remaining games in the series.
Johnson left Navy at the end of the 2007 season, but the foundation he established has allowed Ken Niumatalolo to grow the program even more in the decade since. Johnson influenced a new generation of coaches; three of his assistants on that Navy staff are current Division I head coaches. There will be more.
I hope that this isn't the last we've seen of Paul Johnson. College football is more fun with him patrolling someone's sideline. If he indeed dons his headset for the last time in Georgia Tech's bowl game, I hope he does so knowing that he has the undying gratitude of this lifelong Navy supporter.
See you in the Hall of Fame, Coach.