Navy 42, FAU 19: First Impressions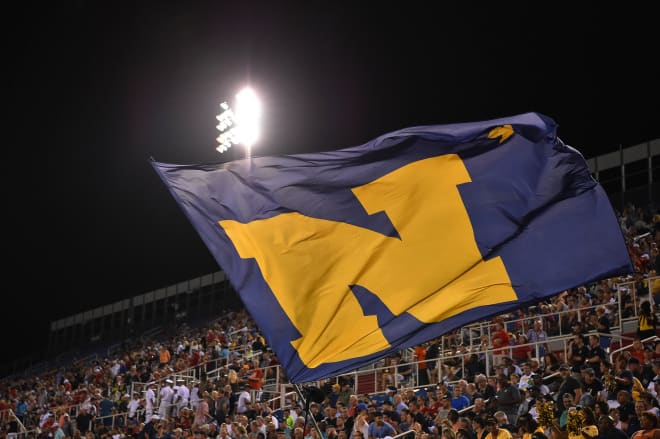 If the weather didn't spoil Lane Kiffin's Florida Atlantic debut, Navy certainly did. Both teams endured nearly three hours of lightning delays before the Midshipmen eventually prevailed, 42-19. Navy out-rushed the Owls, 416-40, while controlling the ball for nearly 40 minutes. FAU briefly held a 10-7 lead in the second quarter before Navy blew the game open with three straight touchdown drives.
Here are some initial thoughts on the game:
Abey in command
Much of the offseason talk surrounding Navy football involved Zach Abey's readiness to take charge of Navy's offense. The junior quarterback wasted no time erasing any lingering doubts that observers might have had. Abey set the single-game American Athletic Conference record for quarterback rushing, finishing with 235 yards and two touchdowns. He also became the first player in Navy history to rush for 200 yards and throw for 100 yards in a game. With 32 carries, Abey was a workhorse.
Navy's coaches had talked about their confidence in Abey all week, so it probably shouldn't have been a surprise that he was so effective in directing Navy's offense. A bit more surprising was how good he looked throwing the ball. While nobody will be impressed by his 3-10 passing, Abey consistently delivered on-target passes downfield. Will Worth's arm was an underrated weapon for the Navy offense last season, and if the Mids can get similar performances out of Abey, the Navy offense should be as potent as ever.
His performance wasn't perfect. A bad pitch and fumbled snap slowed things down in the first half, and Coach Niumatalolo got in Abey's face after the signal-caller didn't see a wide-open check-down receiver on the sideline. Still, as far as the big picture goes, it looks like business as usual at the quarterback position for the Navy offense.
New-look defense
If we're being honest, FAU's offense did not play well. They looked like a team that added a bunch of players halfway through camp. Offensive coordinator Kendal Briles likes to push the tempo, but in this case, I think that worked against the Owls. The frantic pace appeared to contribute to mistakes, with quarterback Daniel Parr often not being on the same page as his receivers.
That said, Navy's defense looked much different from a year ago. FAU was able to run the ball last year despite numerous injuries along the offensive line. With a healthy line and their leading rushers returning, they undoubtedly wanted to run against Navy but were never quite able to get going. The Mids tackled well, played with good gap discipline, and kept FAU from being able to turn to the running game for consistent yards. Navy had eight tackles for a loss, more than in any game in 2016.
Pass defense was more of a mixed bag, but it was still improved. FAU had two long touchdown passes that stick out as sore spots, but that's the tradeoff with a more aggressive approach. Outside of those two plays, FAU was only 19-31 for 129 yards through the air and was held to 5-14 on third down conversions.
While FAU mistakes contributed to the lack of efficiency, so did the Navy defense. The Mids registered two sacks, which doesn't seem like that much but is significant against an offense that emphasizes getting the ball out of the quarterback's hands quickly. More important than the sacks was the quarterback pressure in general. It could be frustrating watching opposing quarterbacks with all day to throw against Navy last year, but that wasn't the case yesterday, as rushing Navy defenders ensured that Parr wouldn't be able to hold onto the ball for long. Navy will face better offenses this season, but it's a good sign nevertheless.
Fullback depth
FAU's defensive alignment meant that this was going to be a "phone booth" game, with a high percentage of Navy's carries coming between the tackles. Sure enough, 56 of Navy's 68 rushes were by quarterbacks or fullbacks.
Chris High was already a proven commodity at fullback, but nobody behind him on the depth chart had much game experience. Not at fullback, anyway; Josh Walker had some with special teams and at slotback. With that position arguably being Navy's deepest, the coaches decided to move Walker to fullback, and yesterday we saw why. Walker brought slotback speed and agility to the position that was evident on his two touchdown runs. The first came on a toss that saw him get the corner and drive his way into the end zone. The second was a 48-yard run up the middle that saw him spin out of a tackle and outrun the defense the rest of the way. With 8 carries for 75 yards, Walker showed that he can be effective at B-back and provide the team with some options at the position.